Welcome to the AceSearch demo site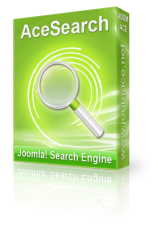 AceSearch is a flexible and powerful Joomla! Search component with an easy-to-use user interface that provides searching through all components from front-end and back-end with custom fields.

AceSearch will turn your site into a robust Search Engine by providing search functionalities for all your components from one page. Supports Joomla search plugins, offers tons of custom searching fields with extensions and can be easily updated on-line.
Key Features:
- Front-end & back-end search
- Advanced search with custom fields
- Custom filters
- Search statistics
- Supports search plugins
- AJAX searching & suggestions
- Efficient search results


Other Features:
- Supports all 3rd party components
- 100% modular structure
- Easy-to-use interface
- On-site automatic updates
- On-the-fly search results, light weight
- Accurated results
- SEF support
- AceSEF integration